On June 16, 2017, the business world shook when retailer juggernaut Amazon bought Whole Foods for $13.4 billion. On the outset to some, this deal will have major implications in the way we shop for groceries. For example, Amazon has made it clear that they intend to create a grocery delivery system that would delivery groceries to your home. That alone falls directly in line with an ease and convenience for consumers that Amazon has built itself on. However, it appears that it's not going to be just as simple as setting themselves up to master the grocery delivery space. They also intend to reshape their local grocery stores by shrinking the size of the store and increasing their online capabilities. Amazon will keep some supermarkets the same as well, for those who enjoy the traditional way of shopping for groceries. Amazon also plans to incorporate streamlined technology into their stores that will simplify the shopping process, such as using your phone to checkout goods in their stores.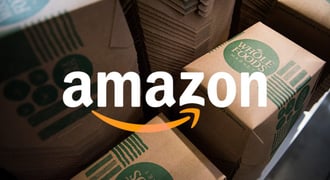 Amazon saw the opportunity to expand their brand even further into a space that hadn't been truly innovated yet, and they took it. One potential reason Amazon made this purchase was to get a leg up on Walmart. Walmart recently spent $3.3 billion to keep up with Amazon when they bought an Amazon competitor, Jet.com. Amazon is proving that they are serious about dominating all aspects of retail – and understanding what Amazon has done already, it appears they are on their way to dominate the grocery space.
Whole Foods has had declining sales for months now and there wasn't much hope for growth. In fact, Whole Foods overhauled their board of directors just a few months ago. Additionally, smaller grocery chains have been successfully coming in to compete for market share (such as Sprouts), and the larger grocery chains have also been focusing on their own organic and healthier food options – an easier way for people to get these options in the big chains that they already frequent and are loyal to. These factors signaled that Whole Foods was not in the best of shape under their current leadership and needed a massive change, which ultimately led to the sale. I think Whole Foods made the right decision to sell especially since Whole Foods was declining and Amazon can help bring them back to the top of their game.
This sale will ultimately change the way groceries are bought and sold. Amazon can now implement online grocery shopping, which will allow customers to order food online and have it delivered to their homes. This may have a large impact on other regional powerhouse grocery chains, such as Publix in the Southeast. Several years back Publix introduced an online delivery process, but it never really took off and they did away with the delivery option (to note, Publix has now has re-entered the grocery delivery market by partnering with Instacart rather than re-launching it on their own). Walmart also implemented a pick-up grocery system, but it hasn't gained much steam. Amazon is the perfect company to pull this off due to their innovation and relentless dedication to offering their consumers with the best delivery experience available. They are the one company that truly has what it takes to implement a system that will be relevant for years to come. Additionally, Amazon claims that they will apply more technology to Whole Foods and give more of a focus to the customers – understanding the customer loyalty and culture that Amazon has built itself on, people are truly excited about this notion.
I am very excited to see how Amazon will operate with Whole Foods. Amazon is already a retail titan, and if anyone can conquer the at-home delivery model for groceries, it's them. I personally love the idea of ordering groceries via a delivery process because it is more efficient and helps people who don't have time to shop for food in-store. It's the same concept as ordering food delivery from a restaurant, but on a much larger scale. If Amazon can make it work, Amazon and Whole Foods will have a competitive advantage over other grocery stores because those other stores have been unable to execute a sustainable delivery model or do not have the processes and capabilities to implement a such a complex order and delivery system. When this new grocery delivery system is introduced, I will be one of the first customers to give it a shot.
Written by Luke Rubin, Marketing Associate