Do you ever wonder how your contact center operations compare to your peers? If you're facing the same challenges and experiencing the same trends as other contact center executives?
As an outsourced contact center provider, it is imperative we do our best to understand what our clients and potential clients view as priorities, opportunities and challenges within each of their own contact center environments. In that regard, we were very fortunate to gain some great insights this year into common themes and matters that contact center executives are experiencing in today's environment.
We are excited to share some key data from the 2017 Global In-House Contact Center Benchmark Report, recently published by contact center analyst and Golden Gate BPO Advisory Board member Peter Ryan. We surveyed 300 internal contact center executives and decision makers in Q1 of 2017, and the results for the following questions are included with this report: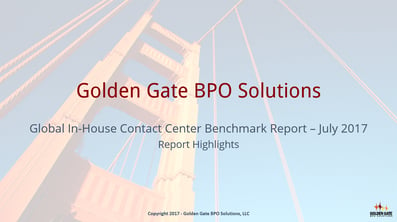 What does your CRM budget look like?
What are your investment priorities within your CRM budget?
What CRM channels are you using?
What levels of agent attrition are you experiencing?
What "pressure points" are keeping you up at night?
How are you using data and analytics?
What is the likelihood you will be moving from offshore/nearshore to domestic delivery?
The results provide you with some valuable insight and perspective in terms of how you measure up to your peers' contact center status, priorities, challenges and opportunities. You may also find this report to be a helpful tool to evaluate, develop, and expand or defend your own contact center budget or strategy in 2017 and 2018.
You can download your copy of the detailed insights here or by clicking on the report cover above.
The full comprehensive report, over 70-pages long, is a deeper dive into many of the questions and subjects above and also includes additional data including impact and investment in AI, robotics and insight on contact center trends, for both captive centers and outsourcing.
We would be happy to provide you with more information or discuss any of the data included in this report. Also, should you have an interest in receiving a full copy of the comprehensive report, feel free to reach out to us here for more information.
Written by Stephen B. Ferber